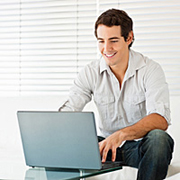 Tech Innovations Bring Security Concerns
Tuesday, Mar, 10, 2020 04:00PM
It's becoming rapidly more common to have access to data everywhere, with users able to send emails or make purchases from anywhere at the click of a button. But with this ease of sending and receiving data comes an increased risk of cyber security, so those who enter the technology arena after receiving a cyber crime degree or online cyber crime degree will work to fight such threats.
CompTIA, an IT industry association, recently released survey results that showed that 83 percent of IT executives believe the security threat level is on the rise. The ninth annual "Information Security Trends Study" said the rising threats create new challenges for IT professionals.
"Our data suggests that there is no single overriding factor behind this sentiment," said Tim Herbert, vice president of research at CompTIA. "Rather, it's a combination of elements that each chip away at information safety and security defenses in some way. With more data being produced and touched by more people, the potential for data loss or leakage grows accordingly."
President Barack Obama has said that attacks on cyber networks have become "one of the most serious economic and national security threats our nation faces." The U.S. Department of Homeland Security is working to keep civilian networks secure, as well as cyberspace and critical infrastructure.