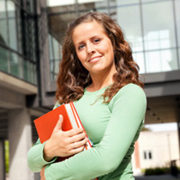 Survey: 19 percent stalked, harassed online
Friday, Feb, 21, 2020 05:55PM
To gain attention to National Stalking Awareness Month, the National Cyber Security Alliance and McAfee released a survey about Americans' experiences online. The survey showed that one in five respondents had come in contact with someone online who made them feel uncomfortable through stalking, persistent emails and other aggressive outreach attempts.
The survey highlights a growing need to monitor users' behavior as the use of tablets and other devices make the internet a large part of our daily lives. Students earning a cyber crime degree or online cyber crime degree likely will be studying more about online harassment.
"Cyber criminals are more resourceful than ever," said John Thode, executive vice president, consumer, mobile and small business, McAfee. "This data supports an ever-increasing need for online users to be vigilant in their actions each day. Americans must be educated to recognize the signs of stalking and other forms of cyber crime as well as taking action to protect ourselves, our youth and our digital infrastructure from victimization."
The NCSA recently announced it would sponsor Data Privacy Day on January 28, designed to promote awareness about privacy and educate people about best privacy practices. Facebook will live stream a related event, a panel-style forum, "The Intersection of Privacy & Security," on January 26.