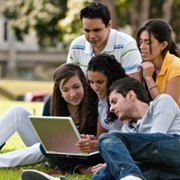 Cyber Criminals Steal Millions in Days
Monday, Feb, 17, 2020 05:26PM
A recent large-scale online theft in which police say a cyber crime gang stole $5.2 million from a South African bank in just 72 hours is evidence that there is an ever-growing need for students seeking a cyber crime degree or online cyber crime degree.
Over the New Year holiday, the thieves hacked into a Rustenberg Post Office employee's computer and made fraudulent deposits to numerous accounts they'd opened in the days prior. South Africa's National Intelligence Agency said about 4 million customers of Postbank were not affected by the theft. No suspects have been named.
"At first glance you have to say the intrusion detection system on its servers were obviously not working properly," Zambia's Sunday Times said, quoting a source who wished to remain anonymous. "It will be difficult for the post office to detect and stop something like this. But if they had the will and knowledge it could certainly have been prevented."
Cyber crime is set to jump this year after 2011 saw about 11 million Americans who fell victim to such scams and thefts. A PwC survey found that 45 percent of respondents said their organization suffered fraud in the previous 12 months.