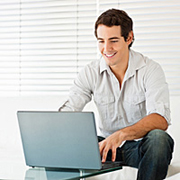 New York DA Goes After Cyber Crime
Monday, Feb, 3, 2020 06:28PM
Workers at a high-tech laboratory in a Manhattan government building fight crime every day as part of an effort from District Attorney Cyrus Vance to cut down on internet scams and fraud - a problem that is plaguing departments around the county.
The rapidly increasing prevalence of mobile electronic devices and cellphones gives cyber criminals ample opportunity to swipe personal information. A cyber crime degree or online cyber crime degree will help students become prepared to fight the criminals, who are lured to the acts because of the lack of violence and lower chance of getting caught.
"Right now there's still a real Wild West side of this," Marcus Asner, former Manhattan federal prosecutor, told The Wall Street Journal. "You'll see more and more D.A.'s getting into the picture. You can't really just rely on the feds going out and cherry-picking 10 or 15 high-profile cases. You need the low-lying fruit, and that's where the D.A.'s offices are going to have to pick up the slack."
The FBI also is fighting the crime, and in November, its "Operation Ghost Click" nabbed six Estonian nationals who were charged with running a fraud ring that affected millions of computers around the world. The fraud allowed them to manipulate internet advertising, the FBI said.