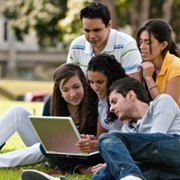 Survey: Some Sectors, Regions Have Encouraging Jobs Outlook
Friday, Nov, 15, 2019 05:04PM
Eleven of the 13 industry sectors in the United States are expected to grow in the fourth quarter of 2011, and many expect to hire. Students interested in an information technology degree may see cause for optimism, as the industry expects to grow by 8 percent, according to a Manpower Employment Outlook Survey.
More than 18,000 employers were surveyed by Manpower, and 16 percent of them expect to add to their payrolls. The industries expecting the biggest gains include: financial activities (9 percent), wholesale and retail trade (17 percent), and professional and business services (8 percent).
Employers in all four geographic regions anticipate a positive seasonally-adjusted outlook, but the North expects a slight dip in numbers. To that end, unemployment numbers diverge state to state - the country's lowest unemployment rate is 3.5 percent in North Dakota, and the highest is 12.1 percent in California, according to the Bureau of Labor Statistics.
"Employers are hesitant to make big decisions when it comes to hiring in the fourth quarter," said Jonas Prising, ManpowerGroup president of the Americas. "Recent economic conditions, coupled with the results of the Manpower Employment Outlook Survey, indicate hiring intentions among U.S. employers remain guarded with a low level of job creation expected in the short term.