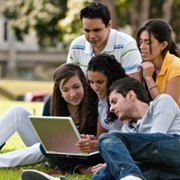 Earning a Cyber Crime or Criminal Justice Degree May Lead to a Government Position
Tuesday, Jun, 27, 2017 03:09PM
According to the FBI's Internet Crime Complaint Center (IC3), the bureau receives about 25,000 complaints that pertain to cyber crime every month. Of the 303,809 complaints received in 2010, the IC3 referred about 40 percent to local law enforcement agencies.
By sharing relative information with agencies across the country, IC3 officials aim to reduce internet crimes such as computer intrusions, internet fraud, online predators and piracy violations. The center has also established other organizations across the U.S., such as the Connecticut Computer Crimes Task Force and various Cyber Action Teams.
Individuals who want to work with the FBI to handle these complaints and direct them to the appropriate law enforcement agencies may want to enroll in college programs online. The Bureau of Labor Statistics (BLS) reports that higher education, such as a cyber crime degree, is necessary for an FBI position.
These federal jobs also require candidates to have either undergraduate degrees and three years of work experience, or graduate credentials, such as an online master's degree education, and two years of professional experience, according to the BLS. Fluency in a foreign language may also be helpful.
Still, the FBI is not the only government agency that is concerned with internet crime. White House officials recently revealed that they have a new cybersecurity plan that strives to increase the protection of networks that run infrastructures such as the electric grid, as well as the transportation and financial sectors, The Wall Street Journal reports. All of these systems have been targeted by web hackers in the past.
Government officials said that in creating their plan they tried to secure critical networks while attempting not to force new security measures on the private sector. Under this proposal, businesses will have a great deal of independence when choosing a new cybersecurity plan, according to the media outlet.
This plan was originally initiated by support from industry groups. The U.S. Chamber of Commerce, in particular, praised the measures as being a set of important actions for the future of web security.
Students who wish to assist White House officials and legislators in creating new internet security plans may want to consider enrolling in online criminal justice degree programs. While the education requirements for federal government positions vary by job title, the BLS reports that a bachelor's degree may be necessary. Other employers may encourage candidates to complete online master's degree education.