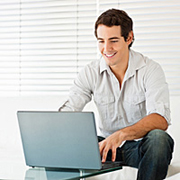 Facebook Announces New Program to Detect Phishers
Monday, May, 28, 2018 12:49PM
Students earning a cyber crime degree or online cyber crime degree can work with top social media sites like Facebook to stop phishing attackers from getting a user's personal information. The site recently launched a program that will help Facebook users work with the company's crime team to catch phishers.
Facebook is a prime target for cyberattackers, because the site has nearly 1 billion users that often give away their login information in Facebook messages or emails that claim to be a part of the organization. The malicious messages look like they come from Facebook, but then lead users to illegitimate sites that ask for their information. In order to decrease the amount of attacks on users, the company launched phish@fb.com, an email address to which users can send suspicious messages.
Once the information is sent out, the social media network's eCrime team then analyzes the information and holds bad users accountable. In some situations, the team will be able to determine the victims of the attack and ensure their accounts are secure.
"The internal systems notify our team, so we can gather information on the attack, take the phishing sites offline and notify users," the company said on its security blog. "Affected users will be prompted to change their password and provided education to better protect themselves in the future."
This trend is especially threatening because users often use the same username and password on other sites, such as bank accounts. The Anti-Phishing Working Group suggested to question any email that prompts a user to verify their information. Unless an email is digitally signed, there is a possibility that it was forged. Other companies like Google, eBay and Twitter have similar programs to detect phishers.