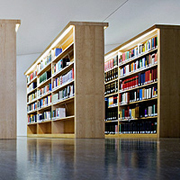 Online college courses can help students earn a master's degree in information systems
Friday, Jan, 11, 2019 05:11PM
A Michigan-based college recently announced that it will offer a new bachelor-to-master's program program in the field of information systems. Online college courses are optional for undergraduate students, while the graduate classes are exclusively online.

The Ionia Sentinel-Standard reports that the master of science in information systems (MSIS) is a five-year program for full-time students. The program's director told the news source that the format will allow scholars to save time and money while they acquire an in-depth knowledge of information systems.

On their way to an MSIS, students can pursue a bachelor's degree in either computer information systems or information technology and security.

According to the Bureau of Labor Statistics (BLS), management jobs in this field are projected to grow by 17 percent over the next eight years. The most recent data from the bureau reports that the average salary for information systems managers, which varies by specialty and level of responsibility, is $112,210. In addition, these professionals may receive benefits such as stock-option plans and bonuses.

Employers in this field typically prefer candidates who hold a graduate degree, so students may consider taking online college courses to improve their chances of getting hired.