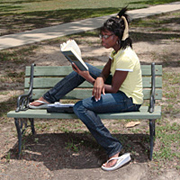 University Professionals Weigh in on the Impact of Online Learning
Friday, Sep, 22, 2017 03:55PM
Online degrees are changing the way students throughout the country are bettering their lives and their careers. Unfortunately, these programs can sometimes can carry stigmas of being inferior to traditional campus-based programs. However, a recent study by the Pew Research Center found that the a majority of college presidents surveyed are backing these web-based programs, saying they are as beneficial as standard universities' degree tracks completed in a classroom, reports the research group's website.
Roughly 51 percent of traditional college presidents said they feel accredited online courses are equivalent to regular classes offered on campus. More than 1,000 individuals answered the questionnaire, representing two-and-four year public, private and for-profit schools nationwide.
These presidents also predicted that in 10 years, about half of their student body will be taking at least one course online. They also say that most of these students, regardless if they are taking coursework in class or virtually, could be using digital copies of textbooks exclusively within the next decade.
In another study by Pearson Learning Solutions, a different group of university officials shared that developing online learning programs was part on their long-term goals at their respected institution, reports Tech Journal South. Last year saw more than 60 percent of these experts planning to further develop their distance learning opportunities offered at their colleges. These numbers rose significantly since 2002, along with a decrease in those who think online degree tracks are not worth the time, as well as those who are neutral about the subject. Large public institutions are the demographic that is most likely to enhance their distance learning offers within the next few years.
Programs that were not thought to be possible online can now be finished solely through the internet at some accredited and prestigious schools, showing that these colleges are quickly evolving. For example, one university based in Cincinnati offers a master's degree program in nursing and a bachelor's degree course of study in criminal justice, both of which may be taken by non-traditional students anywhere with internet access.
According to Eduventures, the number of students engaged in college programs online increased by more than 800 percent between 2001 and 2009. This rapid growth suggests that these types of degree tracks are becoming increasingly popular at a rapid pace. Students are utilizing web-based programs as they become more widespread and accepted as equals next to traditional campus degrees. With these programs being supported by prestigious experts in the educational field, even more students may be enrolling in the near future.